To invite new users to your account, click on Users & Groups on your administration sidebar to open the Users & Groups panel.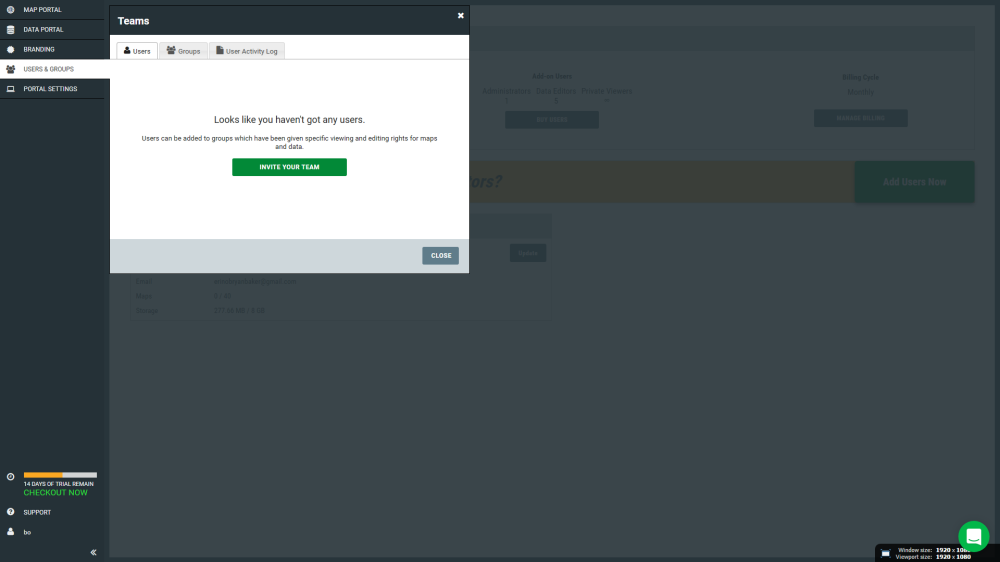 Click INVITE YOUR TEAM to add your first User. Fill in your user's first and last name, and the email address they will use to log in to their new account, then select the user type from the options available and hit ADD MEMBER.
Users will receive an invitation email prompting them to accept the invitation and create their account. The user will set their own password during the invitation process.
If you have existing groups, you can add users to any group while creating the user. If you haven't yet created any Groups, see the chapter on Creating Groups.
Revoking User Access
If you want to remove a user from certain access, you can do so in several ways: remove the user from any groups they are a member of, downgrade their user role to Private Viewer, or delete their user profile from your account.
To completely revoke access to a user, simply delete their user profile from your Users & Groups panel. As Administrators and Data Editors are paid user roles, deleting a user will free up a slot for the deleted user's role. That means you can create a new user to fill that empty slot immediately after deleting a paid user role.
User Add-ons
As Administrators and Data Editors are premium add-ons, you must to include Add-on users to your subscription before creating users.
To increase your Add-on user quota, navigate to your account panel by clicking on your name on the lower left of your administration sidebar.
From the Account Summary section, click Buy Users and add your desired number of Administrators or Data Editors.
During your trial you can create add-on users for free. Select your desired number of users and click Continue Trial.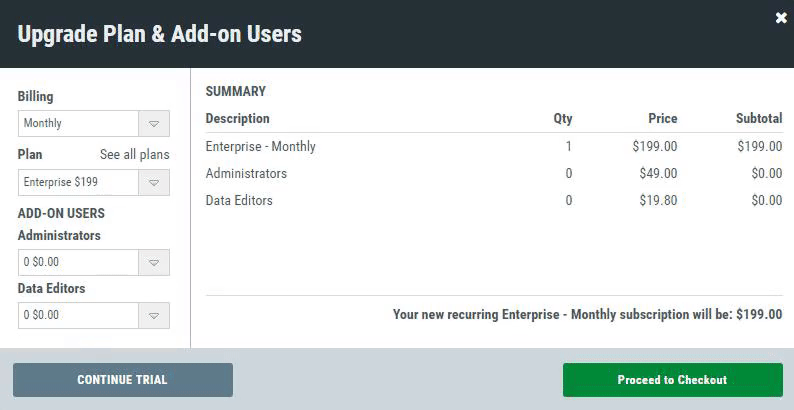 If you have previously checked out, we'll use your existing billing information. Add-ons are charged pro-rata, and charges are linked to your current billing cycle. If you have a monthly subscription, you will be charged monthly for your add-on users; if you have an annual or multi-year subscription, add-on users are billing annually.
If you'd like to try Users & Groups, add Administrators or Data Editors in your your plan selection screen then hit the Try Free for 14 Days button.
Read more about the 14 day upgrade trial.