Extend the interactivity of your map with Mango's Toolbox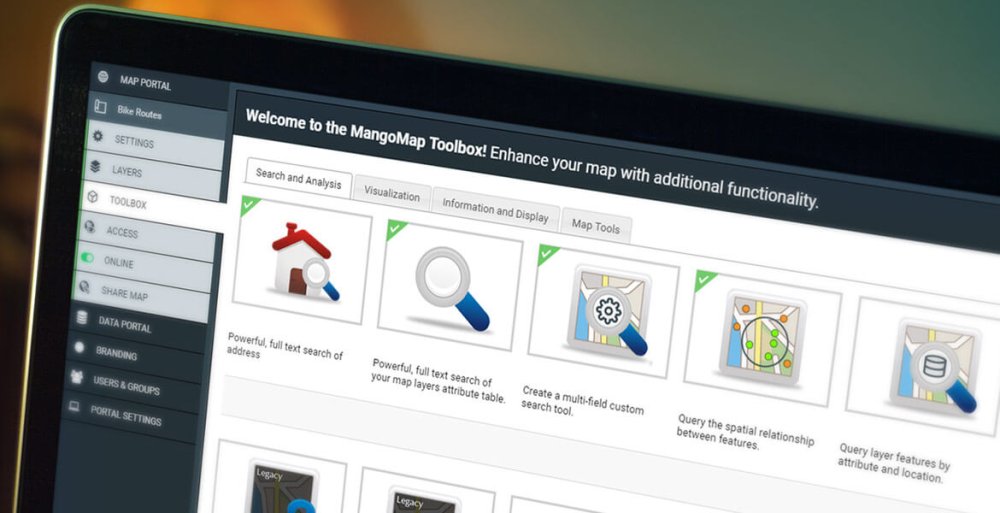 Let users find what they're looking for quickly with Address Search, Attribute Search, or a configurable Custom Search allow users to dig deeper with GIS level features through a simple intuitive interface – Proximity Analysis and Query Tool are simple to configure and yield deep insights for map users through custom reports and optional results export in Shapefile, KML, or CSV format.
Allow users to slide between layers in a side-by-side comparison map, allow users to measure line and polygon. The mouse highlight tool creates a highlight hover as users pass over features can help increase discoverability of key features, or define geographic boundaries. The clustered pushpins tool with optional category styling provides clarity for maps with many points.
Add data source attribution or a customized copyright notice with the Custom Copyright tool, allow users to zoom to their location with the Geolocation tool, display the latitude and longitude at the mouse pointer with the Mouse Position tool, display the real-world scale with the Scale Bar tool, and let users share your map far and wide with the Share Map tool.
Let users change your default basemap with the Basemap Switcher tool, allow users to jump to Google Street View, reset the map to it's default zoom and position with the Refresh Map tool and let users take the map offline with the Print to PDF function.