Along with custom branding options like logo, interface colours, and custom icons, a custom domain name allows Mango to seamlessly integrate with your brand or website.
Mango lets you assign one custom domain to your account, which can be a primary domain, or subdomain.
How do I set up a custom domain for my Mango account?
Step 1: Prepare your domain
If you don't have an existing domain or subdomain, choose a registrar, or use tools like Namecheap or Domainr to find and buy a domain name that's available. (This usually costs about $10-$40 per year)
Step 2: Point your domain to Mango
To make your maps load on your domain, you need to tell your domain where your maps are. Depending on the number of levels in your domain, you must change either the A-record or the CNAME for your domain:
If your domain is a two level domain like this: example.com
Change your A-record (IP Address) to
If your domain is a three (or more) level subdomain like this: maps.example.com
Change your
CNAME

record for the subdomain to
These settings are usually found in your domain administration panel, but if you're not sure where to find them, check with your domain registrar. Most registrars offer comprehensive documentation and step-by-step guides for making A-record and CNAME record changes.
Step 3: Activate your custom domain
Open the Branding panel from your admin sidebar and open the Domain tab.
Type your domain (e.g. mywebsite.com) or subdomain (e.g. maps.mywebsite.com). Don't add http or any slashes. Press Save.
Select whether you would like your domain to launch a map, or your portal.
Click

SAVE

. Mango checks your domain to see if it's pointing to Mango and if there are any problems you will see an alert box detailing the issue.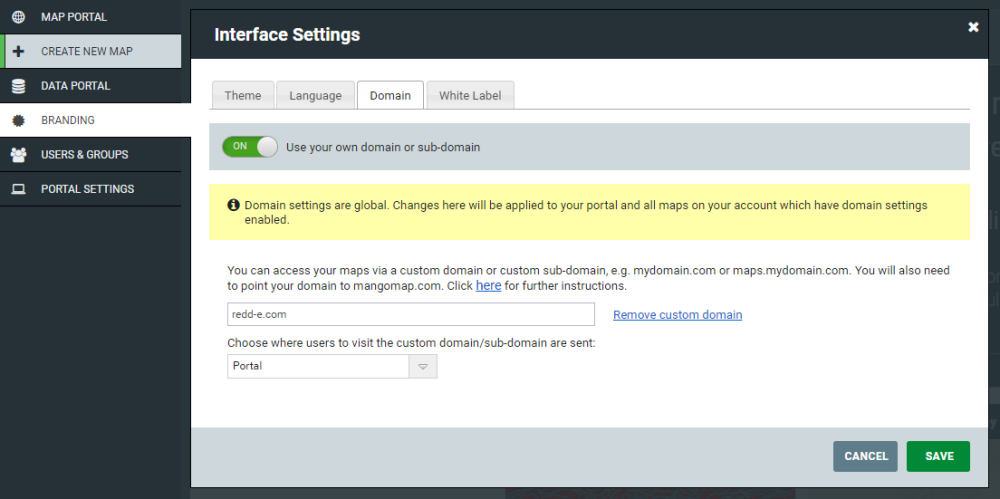 ---
Troubleshooting
Do I need to change the nameservers for my domain?
Nope, only the A-record or CNAME record, depending on levels in your domain.
---
How do I know if I set up my domain properly?
After re-configuring your domain settings in Step 2 above, you will need to wait up to 72 hours for the changes to take effect.
Check an A-Record for a domain
To check if your A-Record changes have propagated throughout the internet, just enter your domain into the A-Record checker using DNS Checker
A successful test for an A-Record will show the IP address 174.129.28.51 across all locations: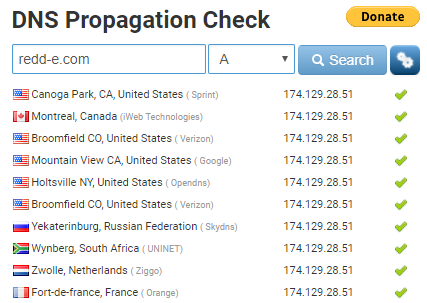 Check a
CNAME

record for a sub-domain

To confirm is a CNAME record change is successful, check by entering your subdomain in the CNAME Check tool at MXToolbox.com

A successful CNAME test will show a record pointing to mangomap.com is found:

If either are not found, remember that changes may take up to 72 hours. Check your configuration with your domain registrar if records to not update.
---
What happens when someone visits my old Mango
URL

?

They will automatically be redirected to your new custom domain:
Mango

URL

Your custom

URL

mangomap.com/acme/maps/19876
→
acme.com/maps/19876
---
What if I'm having trouble setting up a custom domain?
Send an email to the Mango Support Team and our team of experts will be able to assist.