Hidden maps provide basic access control to maps by obfuscating the
URL

and ensuring search engines do not index the map
---
Maps can be hidden from public view by setting the Map Access to Hidden. This changes the map's unique URL to a 128 bit 32 character randomized hash instead of the standard numeric map URL. Only people with the full hashed URL (or unique short URL) will be able to find and view the map.
A standard map
URL
https://mangomap.com/maps/49601
A hidden map
URL
https://mangomap.com/maps/2693c7de-d9d9-11e5-bc16-22000bb3a3a1
Setting Map Access to Hidden
To set your map to Hidden, open the ACCESS panel from your Map Editor sidebar.
On the tab "Who can access this map", select Hidden Map, and click Save.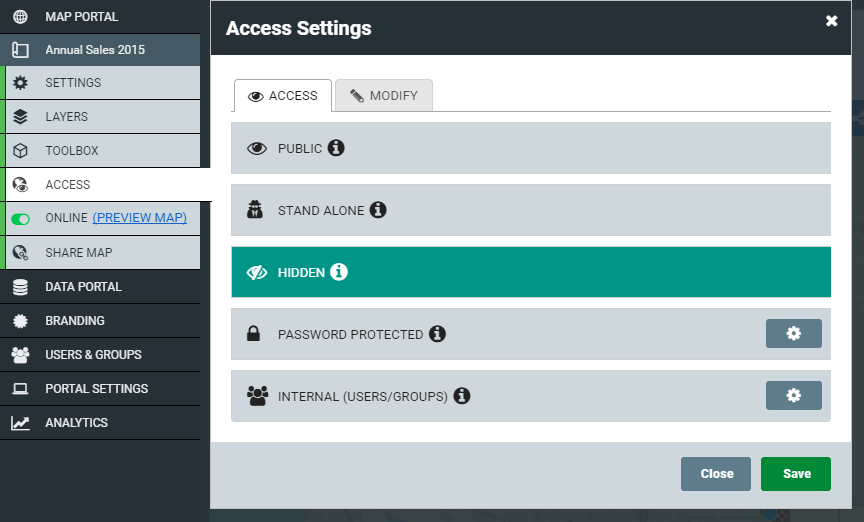 Regenerating a Hidden map
URL

hash

If you have a previously published hidden map, and wish to refresh the privacy by creating a new 128 bit hash, open the ACCESS panel, click on the cog icon on the Hidden map row, and click the "Regenerate Hidden URL" button. This generates a new 128-bit 32 character hash, and the map's short URL is also updated. The old hashed URL and short URL will no longer work.

To remove the hash and make the map public again, simply return to the ACCESS panel and choose a different access option. The hash will be removed and your map will now follow the new Access rule.
Links, Permalinks and short
URL

s

If you change a map to Hidden, any existing links, permalinks and short URLs will no longer redirect to the map. Please update any map users with the new URL after setting a map to Hidden.