Mango offers multiple search types for users to find the answers they need.
Address, Data, and Coordinate search use the same search field in your map's action bar.
Configuration is done via the Search panel in your Toolbox.
You can enable or disable any search type, and configure each search type's options. If more than one search type is enabled, the search set as Default will appear when the user clicks on the search bar. To set the Default search type, click on the Set as default search button.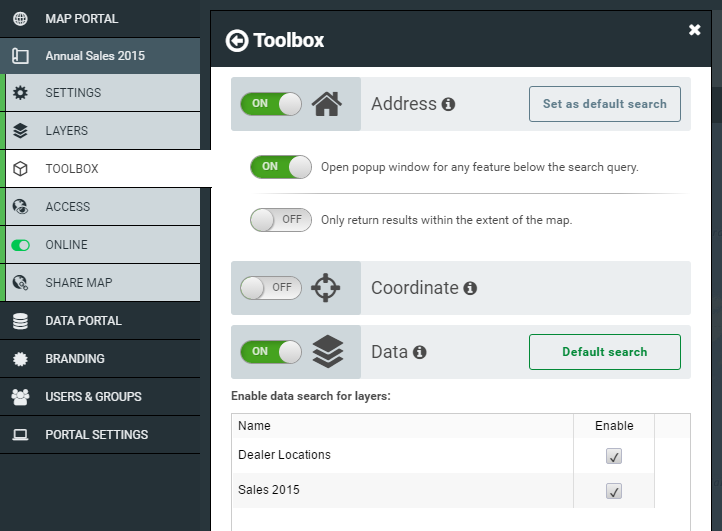 ---
Address Search
Mango uses the here™ Places API, allowing users to find individual locations. Coverage includes:
over 200 countries
over 1.5 million different areas (cities, districts, regions)
over 25 million streets split into 90 million and more individual segments
In an increasing number of countries, the Places API provides detailed, building-specific location data – currently over 200 million point addresses. See full coverage here.
Address Search is enabled by default for all maps.
To disable address search, open the TOOLBOX from your administration sidebar, click on the Search icon, open the Settings and flip the toggle to OFF.
You can also configure whether the popup will appear if an address search result lands on a feature:

---
Data Search, also known as Attribute Search, allows users of your maps to search by the attributes contained within your datasets.
Any matching text that exists in your dataset is returned and users can select from any feature containing that text.
The search function uses attribute tables of all layers that are enabled for Data Search, and will return results ordered by the quality of the match to the search term.

Activate Attribute Search
To enable Data Search, open the Toolbox from your administration sidebar, and click on the Search icon, and open the Settings Panel then flip the Data Search toggle to ON. A section showing all layers will appear. From this screen, check all the layers you wish to be activated for Data Search.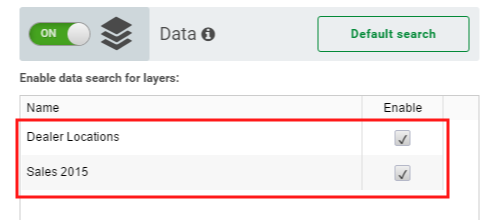 Once enabled, the data search is available to users of your map via the map search bar. Users of your map will be able to search the attribute table by simply typing their search query in the search bar at the top. If you have Address or Coordinate search activated, results will be returned separately. Click the respective search type below the search box to change the search type.
---
Coordinate Search
Coordinate search allows users to enter specific coordinates on the map.
To activate Coordinate Search, open the Toolbox from your administration sidebar, and click on the Search icon, and open the Settings Panel then flip the Coordinate toggle to ON.
Web Mercator, which is the projection Mango displays is bound by the following:
Latitude: -85 to +85
Longitude: -180 to +180
Any search outside these result in an error.
Accuracy of coordinate searches
| Decimal places | Degrees | Distance - Metric | Distance - Imperial |
| --- | --- | --- | --- |
| 0 | 1 | 111 km | 62 miles |
| 1 | 0.1 | 11.1 km | 6.2 miles |
| 2 | 0.01 | 1.11 km | 0.62 miles |
| 3 | 0.001 | 111 m | About 328 feet |
| 4 | 0.0001 | 11.1 m | About 33 feet |
| 5 | 0.00001 | 1.11 m | About 3 feet |
| 6 | 0.000001 | 11.1 cm | About 4 inches |
| 7 | 0.0000001 | 1.11 cm | About ½ an inch |
| 8 | 0.00000001 | 1.11 mm | The width of paperclip wire. |
| 9 | 0.000000001 | 111 μm | The width of a strand of hair. |
| 10 | 0.0000000001 | 11.1 μm | A speck of pollen. |
| 11 | 0.00000000001 | 1.11 μm | A piece of cigarette smoke. |
| 12 | 0.000000000001 | 111 nm | You're doing virus-level mapping at this point. |
| 13 | 0.0000000000001 | 11.1 nm | Does it matter how big this is? |
| 14 | 0.00000000000001 | 1.11 nm | Your fingernail grows about this far in one second. |
| 15 | 0.000000000000001 | 0.11 nm | An atom. An atom! What are you mapping? |
(h/t to Blackkara)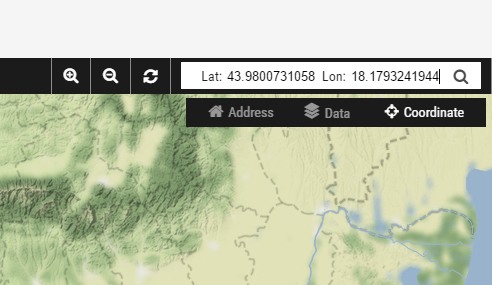 Address search coverage
Updated 06/08/2018
| Country/Area | Level | Notes |
| --- | --- | --- |
| Andorra | Full | Catalan not supported; English supported |
| Australia | Full | |
| Austria | Full | |
| Belarus | Full | |
| Belgium | Full | |
| Bosnia and Herzegovina | Full | |
| Brazil | Full | |
| Bulgaria | Full | |
| Canada | Full | |
| Chile | Full | |
| Croatia | Full | |
| Czech Republic | Full | |
| Denmark | Full | |
| Estonia | Full | |
| Finland | Full | |
| France | Full | |
| Germany | Full | |
| Gibraltar | Full | |
| Greece | Full | |
| Hungary | Full | |
| Ireland | Full | |
| Italy | Full | |
| Liechtenstein | Full | |
| Lithuania | Full | |
| Luxembourg | Full | Luxembourgish not supported;English & French supported |
| Macedonia, The Former Yugoslav Republic of | Full | |
| Monaco | Full | |
| Netherlands | Full | |
| New Zealand | Full | |
| Norway | Full | |
| Poland | Full | |
| Portugal | Full | |
| Russian Federation | Full | |
| Serbia | Full | |
| Singapore | Full | Mandarin |
| Slovakia | Full | |
| Slovenia | Full | |
| South Africa | Full | Isizulu not supported; English supported |
| Spain | Full | |
| Sweden | Full | |
| Switzerland | Full | |
| United Kingdom | Full | |
| United States | Full | |
| Vietnam | Full | |
| Albania | Intermediate | |
| Argentina | Intermediate | |
| Bahamas | Intermediate | |
| Bahrain | Intermediate | Arabic not supported; English supported |
| Cayman Islands | Intermediate | |
| Costa Rica | Intermediate | |
| Cote D'Ivoire | Intermediate | French supported |
| Iceland | Intermediate | |
| Indonesia | Intermediate | |
| Kazakhstan | Intermediate | |
| Latvia | Intermediate | |
| Lesotho | Intermediate | Sesotho not supported; English supported |
| Malaysia | Intermediate | Malay not supported; English supported |
| Malta | Intermediate | |
| Moldova, Republic of | Intermediate | Moldovan not supported; Romanian supported |
| Montenegro | Intermediate | |
| Romania | Intermediate | |
| Taiwan | Intermediate | |
| Turkey | Intermediate | |
| Brunei Darussalam | Entry | |
| Cambodia | Entry | Khmer not supported; English supported |
| Colombia | Entry | |
| Egypt | Entry | Arabic not supported; English supported |
| India | Entry | Hindi not supported; English supported |
| Israel | Entry | Hebrew not supported |
| Jordan | Entry | Arabic not supported; English supported |
| Kenya | Entry | |
| Lebanon | Entry | Arabic not supported; French supported |
| Mexico | Entry | |
| Mongolia | Entry | |
| Morocco | Entry | Arabic not supported; French supported |
| Mozambique | Entry | |
| Namibia | Entry | |
| Panama | Entry | |
| Peru | Entry | |
| Philippines | Entry | English supported ; Filipino not supported |
| Puerto Rico | Entry | |
| Qatar | Entry | Arabic not supported; English supported |
| Saudi Arabia | Entry | Arabic not supported; English supported |
| Thailand | Entry | Thai not supported; English supported |
| United Arab Emirates | Entry | Arabic not supported; English supported |
| Venezuela | Entry | |
| Afghanistan | Untested | |
| Algeria | Untested | Arabic not supported; French supported |
| American Samoa | Untested | |
| Angola | Untested | |
| Anguilla | Untested | |
| Antigua and Barbuda | Untested | |
| Armenia | Untested | |
| Aruba | Untested | |
| Azerbaijan | Untested | |
| Bangladesh | Untested | Bangla not supported; English supported |
| Barbados | Untested | |
| Belize | Untested | |
| Benin | Untested | |
| Bermuda | Untested | |
| Bhutan | Untested | |
| Bolivia | Untested | |
| Bonaire, Sint Eustatius and Saba | Untested | |
| Botswana | Untested | |
| Burkina Faso | Untested | |
| Burundi | Untested | |
| Cameroon | Untested | |
| Cape Verde | Untested | |
| Central African Republic | Untested | |
| Chad | Untested | |
| Comoros | Untested | |
| Congo | Untested | |
| Congo, The Democratic Republic of The | Untested | |
| Cook Islands | Untested | |
| Curacao | Untested | |
| Cyprus | Untested | |
| Djibouti | Untested | |
| Dominica | Untested | |
| Dominican Republic | Untested | |
| Ecuador | Untested | |
| El Salvador | Untested | |
| Equatorial Guinea | Untested | |
| Eritrea | Untested | |
| Ethiopia | Untested | |
| Falkland Islands (Malvinas) | Untested | |
| Faroe Islands | Untested | |
| Fiji | Untested | |
| French Guiana | Untested | |
| French Polynesia | Untested | |
| Gabon | Untested | |
| Gambia | Untested | |
| Georgia | Untested | |
| Ghana | Untested | |
| Greenland | Untested | |
| Grenada | Untested | |
| Guadeloupe | Untested | |
| Guam | Untested | |
| Guatemala | Untested | |
| Guernsey | Untested | |
| Guinea | Untested | |
| Guinea-Bissau | Untested | |
| Guyana | Untested | |
| Haiti | Untested | |
| Honduras | Untested | |
| Hong Kong | Untested | Chinese not supported; English supported |
| Iraq | Untested | |
| Isle of Man | Untested | |
| Jamaica | Untested | |
| Jersey | Untested | |
| Kiribati | Untested | |
| Kosovo | Untested | |
| Kuwait | Untested | Arabic not supported; English supported |
| Kyrgyzstan | Untested | |
| Lao People's Democratic Republic | Untested | |
| Liberia | Untested | |
| Libyan Arab Jamahiriya | Untested | Arabic not supported; English supported |
| Macau | Untested | Chinese not supported; Portuguese supported |
| Madagascar | Untested | |
| Malawi | Untested | |
| Maldives | Untested | |
| Mali | Untested | |
| Marshall Islands | Untested | |
| Martinique | Untested | |
| Mauritania | Untested | Arabic not supported; French supported |
| Mauritius | Untested | |
| Mayotte | Untested | |
| Micronesia, Federated States of | Untested | |
| Montserrat | Untested | |
| Nauru | Untested | Nauruan not supported; English supported |
| Nepal | Untested | Nepali not supported; English supported |
| New Caledonia | Untested | |
| Nicaragua | Untested | |
| Niger | Untested | |
| Nigeria | Untested | |
| Niue | Untested | |
| Norfolk Island | Untested | |
| Northern Mariana Islands | Untested | |
| Oman | Untested | Arabic not supported; English supported |
| Pakistan | Untested | Punjabi not supported; English supported |
| Palau | Untested | |
| Palestinian Territory, Occupied | Untested | |
| Papua New Guinea | Untested | |
| Paraguay | Untested | |
| Reunion | Untested | |
| Rwanda | Untested | Kinyarwanda not supported; French supported |
| Saint Barthélemy | Untested | French supported |
| Saint Helena | Untested | |
| Saint Kitts and Nevis | Untested | |
| Saint Lucia | Untested | |
| Saint Martin | Untested | |
| Saint Pierre and Miquelon | Untested | |
| Saint Vincent and The Grenadines | Untested | |
| Samoa | Untested | |
| San Marino | Untested | |
| Sao Tome and Principe | Untested | |
| Senegal | Untested | |
| Seychelles | Untested | |
| Sierra Leone | Untested | |
| Sint Maarten | Untested | |
| Solomon Islands | Untested | |
| Somalia | Untested | |
| South Sudan | Untested | Arabic not supported; English supported |
| Sri Lanka | Untested | Sinhala & Tamil not supported; English supported |
| Suriname | Untested | |
| Svalbard and Jan Mayen Islands | Untested | |
| Swaziland | Untested | |
| Tajikistan | Untested | Tajik not supported; English supported |
| Tanzania, United Republic of | Untested | |
| Timor-Leste | Untested | |
| Togo | Untested | |
| Tokelau | Untested | |
| Tonga | Untested | |
| Trinidad and Tobago | Untested | |
| Tunisia | Untested | Arabic not supported; French supported |
| Turkmenistan | Untested | |
| Turks and Caicos Islands | Untested | |
| Tuvalu | Untested | |
| Uganda | Untested | |
| Ukraine | Untested | |
| Uruguay | Untested | |
| Uzbekistan | Untested | |
| Vanuatu | Untested | |
| Vatican City State (Holy See) | Untested | |
| Virgin Islands (British) | Untested | |
| Virgin Islands (U.S.) | Untested | |
| Wallis and Futuna Islands | Untested | |
| Western Sahara | Untested | |
| Yemen | Untested | Arabic not supported; English supported |
| Zambia | Untested | |
| Zimbabwe | Untested | |
| Åland Islands | Untested | |
| Antarctica | Not available | |
| British Indian Ocean Territory | Not available | |
| China | Not available | |
| Cuba | Not available | |
| Iran (Islamic Republic of) | Not available | |
| Japan | Not available | |
| Korea, Democratic People's Republic of | Not available | |
| Korea, Republic of | Not available | |
| Myanmar | Not available | |
| Pitcairn | Not available | |
| Sudan | Not available | |
| Syrian Arab Republic | Not available | |
Coverage categories
Full Optimized search experience
Intermediate Non-optimized search experience
Entry Non-optimized search experience
Untested Untested search experience
Not available No search support