---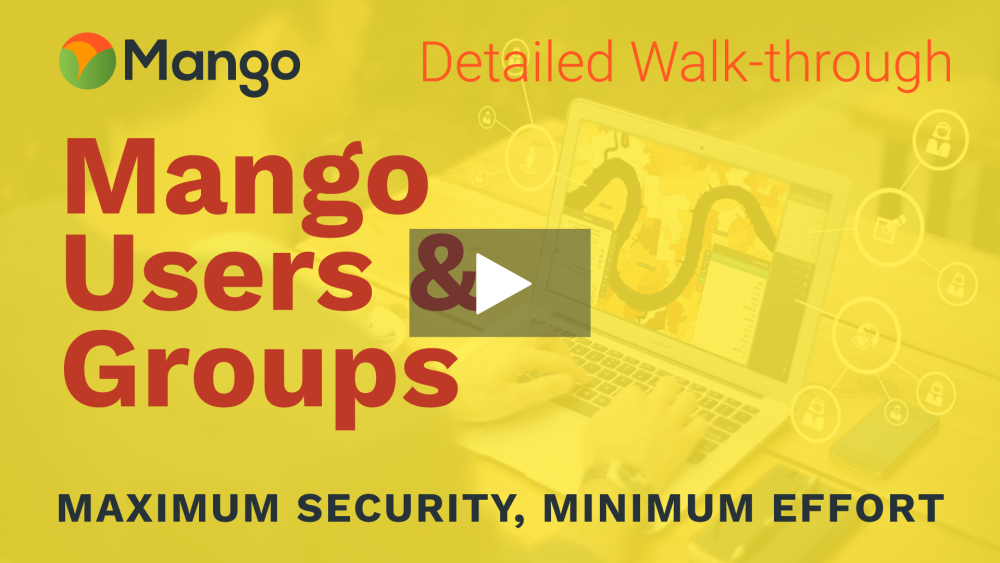 https://mangomap.wistia.com/medias/rarbt0y7u2
Users and Groups offers powerful map and data management with fine-grained access controls – you have complete control over who can view or modify your maps, and who can view, edit, reupload, and download your datasets. If you need to share maps or data with clients and stakeholders in a secure environment, you can create add-on user accounts with configurable access permissions.
Add-on users start with no permissions – they can see only public maps and datasets. Assigning users to group allows you to grant permissions to view, edit, or modify maps and datasets.
Private viewers can be assigned permissions to view maps and datasets.
Editors can be assigned view permissions to maps, and edit permissions to datasets.
Administrators can be assigned full access to the account, except for account administration tools, such as billing.
Benefits
Provide secure access to maps and data
Instantly revoke individual or Group access permissions

---
Fine grained permissions
Users and Groups works by creating Groups which can be granted access or modify permissions on each map, and access and edit permissions on each dataset in your account.
Groups can comprise any number of users of any role, but each user's role will determine what they an do in Mango, regardless of the privileges granted to the Group. For example, Private Viewers can only ever view maps and data if they are in a group with Custom permissions, even if the Group has Edit or Modify access.
Assigning Permissions
Access permissions are assigned by placing your users in groups, and then assigning permissions to those groups for each map and dataset.
A group can contain any number of users, and any type of user role.
If a group contains Administrators, Editors, and Private Viewers, and the group has been given edit permissions, each user will only be able to act as per their user role – eg. Private Viewers in a group with view and edit permissions can view maps and data, but can never edit maps or data.
A Data Editor in a group with Edit permissions can edit the map and any tools, and they can view all datasets rendered as layers on the map, but can only edit the datasets which they have been given permission to edit.
To learn more about what action users are able to perform, see the Permissions Matrix.