If you are experiencing financial hardship due to the COVID-19 pandemic, please get in touch to discuss your account.
We never like seeing people leave Mango, so if you're considering account closure because you don't think you're getting enough usage or value from Mango, we invite you to get in touch with us to setup up an account review.
During the review, we can help identify features or access options you might not be utilising, help make makes faster, prettier, or more intuitive, and help solve your complex workflows or deliver spatial insights that deliver answers. Contact us to arrange a time to talk.
To close your Mango account (if you have to.. we'll miss you!), open your Account settings panel from the administration sidebar by clicking on your name in the lower left of your screen and clicking on Account.

In your account settings panel, click the Cancel account button.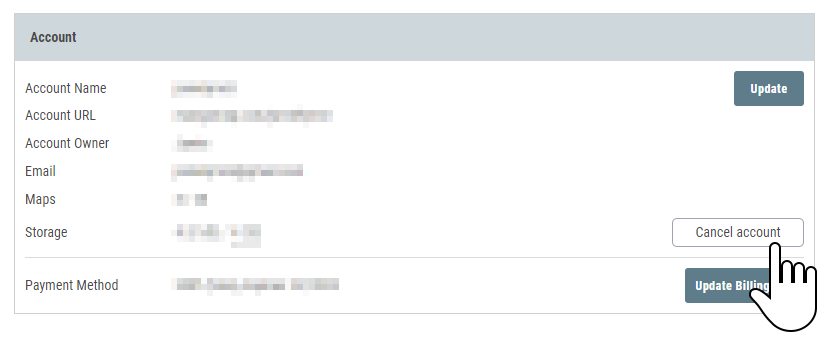 Closing your account will prevent any future charges to your card on file. Credit remaining for your billing cycle is not refunded.
Once closed, all data and maps associated with your account will be deleted from our servers.
Once deleted, your data cannot be recovered.
Closing trial accounts
We don't offer a self-serve method to close trial accounts.
If you are currently in trial, your account, including all maps and data will be automatically deleted 21 days after the trial expiry date.
If you wish to delete your data before this time, simply navigate to your data portal and delete the datasets.
Right to erasure - requesting account deletion
While all data held by Mango is deleted on account closure or 21 days after the trial expiry date, you may request we delete any data held by us sooner under the General Data Protection Regulation (GDPR) Article 17 – Right to erasure ('right to be forgotten'). To request erasure of all data and PII, please submit a support request.