Need a new account name? Here's how to change it.
Mango uses the Company name you provide when you sign up as your public URL for any public maps and datsets you share. eg.: mangomap.com/account-name/maps
To change your account name:
Open your Account settings panel from the administration sidebar by clicking on your name in the lower left and click on Account.
In the Account section, click the Update button.
Enter a new account name
Click Save
When you change your name, type in your account name as you want it to display, with any capitalisation you require, and we'll generate a web-browser friendly URL version which you can see in a preview below.
This will be the URL that your users will need to access maps and datasets you share.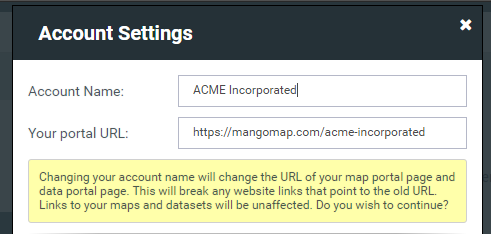 If you're using a custom domain, the account name is added to the end of your domain:
https://your-custom-domain.com/account-name
Update external links
You may have links to your maps or portal in websites, email footers, or anywhere online that point to your portal.
If you change from, let's say mangomap.com/acme-maps to mangomap.com/acme-incorporated, Mango can't and won't redirect old links you may have already shared or embedded in emails, websites etc.
Anyone trying to visit your map at an old URL like mangomap.com/acme-maps/2110 will see an error page.
Some things to remember if you choose to change your Account name.
We will not set up redirects for your old portal, maps, or dataset URLs. You'll need to update any links you've shared or added to your website.
Renaming the account may take a few minutes to complete.