This article relates to closing accounts creating under the Mango Partner program. If you have a standard Mango account, please see this article.
To close a client account, click on the cog icon for the client, and select trash Close account.

Enter your Partner password to confirm the closure.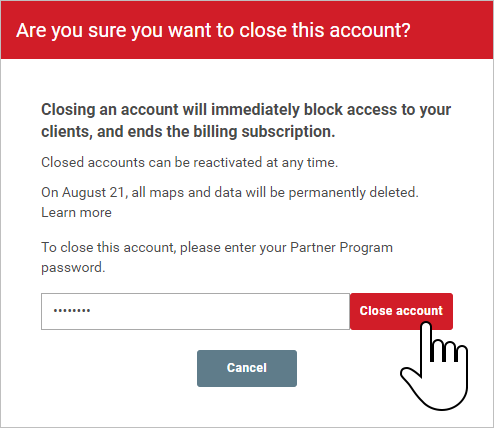 Closing an account will immediately block access to your clients, and ends the billing subscription. No credit is applied for unused subscription fees already paid.
Data retention
We maintain all maps and data for 21 days after an account is closed. Once deleted, maps and data are not recoverable.
You will receive 2 email warning prior to data deletion. To ensure you receive critical email notifications, please whitelist support@mangomap.com.
Learn how to whitelist Mango emails.
Reactivating closed accounts
You can reactivate closed accounts at any time. See Reactivating closed accounts for more details. Note that if the 21 day data retention period has passed, all maps and data in the account will have been deleted.
Removing closed accounts from your dashboard
If you would like to remove a closed account from your dashboard, please raise a support ticket.