This article relates to accounts created under the Mango Partner program.
You can create and manage your client accounts from your Partner dashboard. To access your partner dashboard, sign in at https://partner.mangomap.com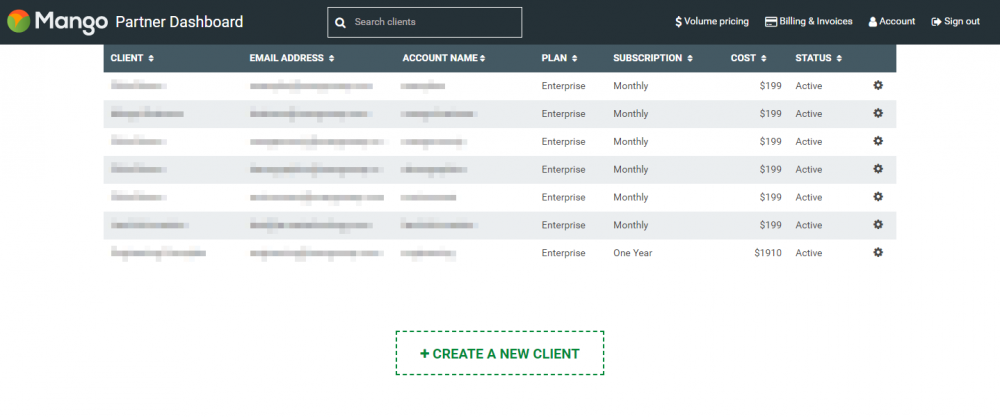 From your dashboard you can manage all aspects of client accounts.
As a Partner, you can:
Create client accounts
Edit the user details of each client
Modify the plan and add-ons of each client
Suspend client accounts
Delete client accounts
Creating a client account
To create a client account, click on the green "Create a New Client" button on your dashboard.
First, set the Client Details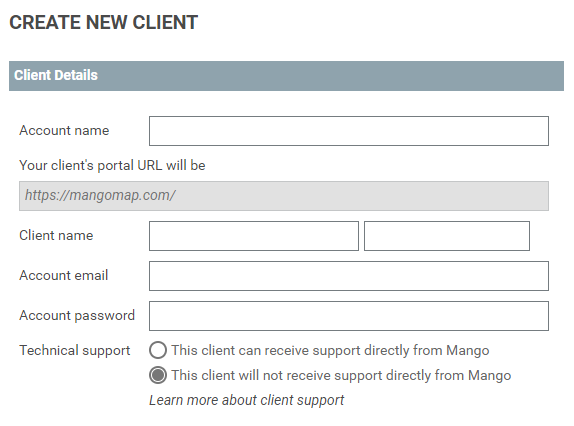 Account Name: This could be the name of the project, client business name, or anything that reflects the client. The client's account URL will be generated automatically from the Account Name.
Client name: The full name of the client that will be the primary account holder
Account email: The email address used by the client to sign in to this account
Account password: The password used by the client to sign in to this account
Technical support: Choose whether you want your clients to be able to contact Mango directly for support. Learn more
If you intend to white label the client account, we recommend you set this to "This client will not receive support directly from Mango".
Client accounts have no access to a billing or settings page, so any changes to the account name, client name, email or password are managed by you, the Partner.
Next, set the subscription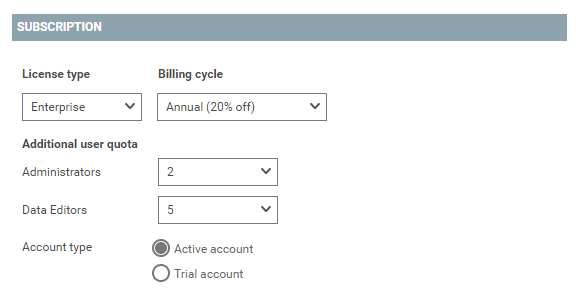 License type: Choose from available Mango plans – Professional, Business, Enterprise, or Agency
Billing cycle: Monthly, or 1 to 5 year billing.
For standard plan and pricing details, please see https://mangomap.com/pricing
Additional user quota: For Enterprise and Agency plans, you can create a quota of additional users on the client account
Account type: The Partner program offers two Account types at the time of creation: Active and Trial.
An Active account is billed immediately on creation.
We understand that some clients will require a demonstration or sample maps to use for evaluation and consideration purposes. In this case, you can create a 30 day trial account. After the 30 day trial period, the account will enter a suspended state. Learn more about Trial accounts
Finally, preview the subscription price, and create the account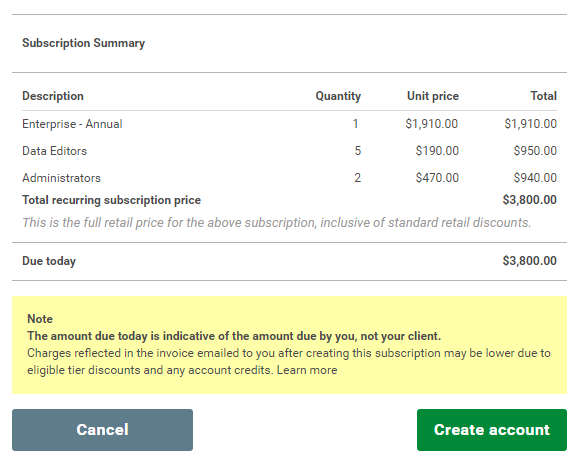 As you adjust the subscription, you will see the billing summary update to reflect the total subscription cost per billing cycle, including any applicable Volume Discounts.
To learn more about Volume Discounts, please sign in to your Partner Dashboard.
Once you have entered all the required subscription details and are satisfied with the settings, click Create account.
New client accounts are fully functional immediately after creation.
Further reading