This article relates to accounts created under the Mango Partner program.
If your client needs an upgrade, you can change the subscription at any time in the Partner dashboard.
To edit a subscription for a client account, click the cog icon for the account you wish to edit in your dashboard and choose cog Edit subscription
On the Client Edit page, select pen Edit on the Subscription panel.

Select the new plan, billing cycle, or add-ons for the account.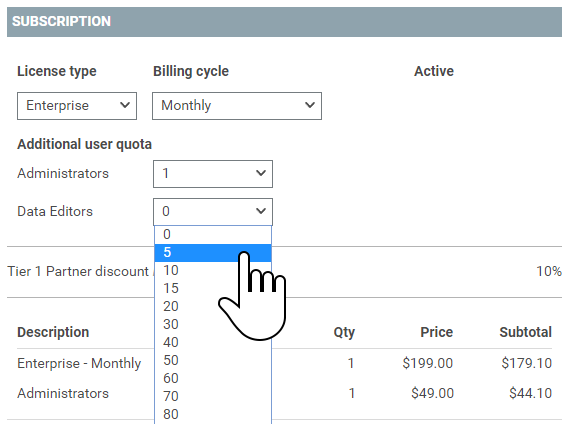 When complete, select Update account to save the changes.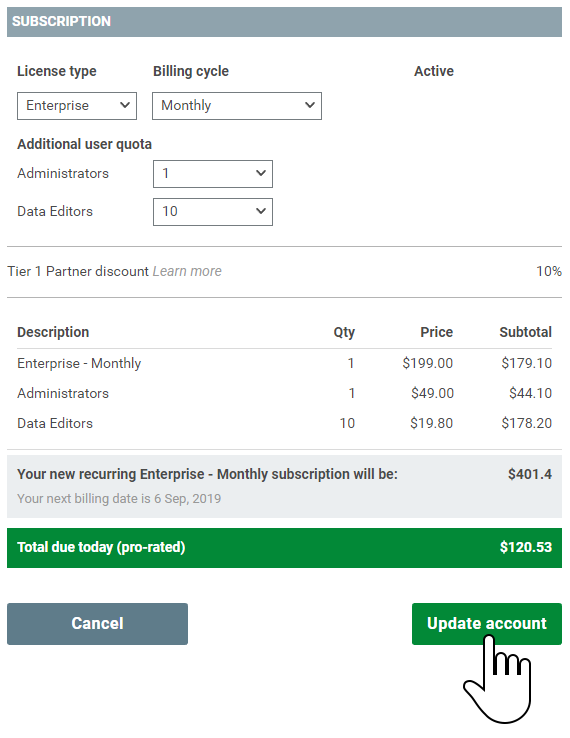 The new recurring subscription fee will be indicated, as well as the amount due today (which will be charged immediately on clicking Update account). The amount due at the time of the change will depend on your partner discount tier, and any credits that may be carried over.
If you are downgrading an account, a prorata amount will be credited to your partner billing account.
When modifying the subscription of a suspended account please note the following:

Trial accounts

Regardless of the trial expiry date, modifying the plan, add-ons or billing cycle of a Trial account under suspension will not set the account to active or create a billing subscription.

To create a billing subscription, you must Activate the trial account. See Activating trial accounts.

Active accounts

Modifying the plan, add-ons, or billing cycle will cease a suspension immediately and update the billing subscription, but it will not reactivate the account for the client.

To reactivate the account for client access, you must Reactivate the account. See Reactivating suspended accounts.