Let your brand speak to your users. Custom branding lets you customise the look and feel of Mango to suit your brand.
Control the text colour, interface colour and accent, and the feature highlight colour and opacity.
First open the Branding panel from your administration sidebar. Open the Custom Theme tab and upload your logo, and set your colours by selecting a preset theme, or adjust the available options to suit your own brand needs.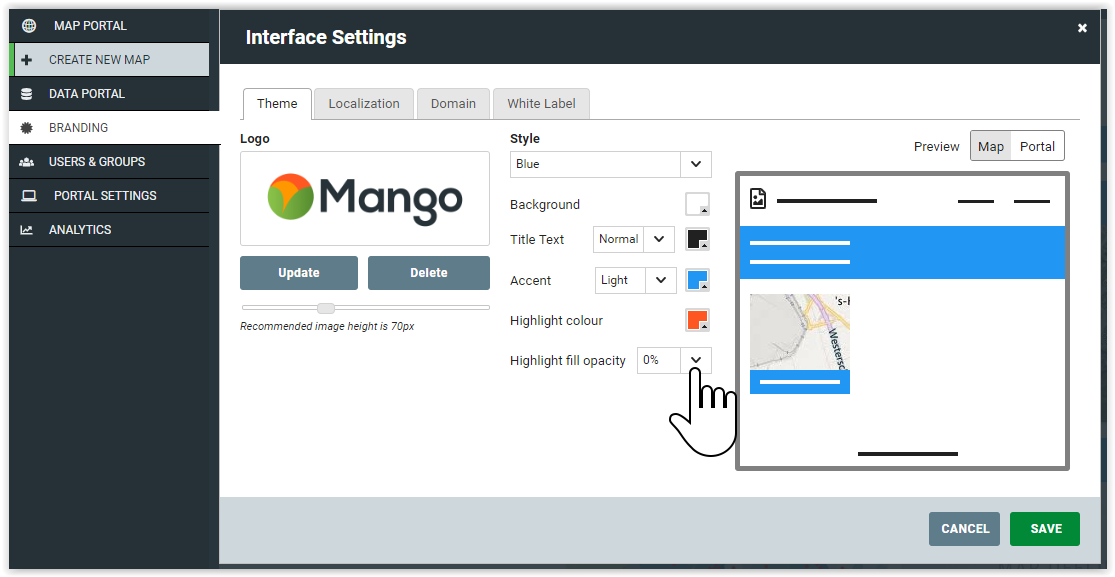 Branding settings are global, so you can access your branding settings from anywhere in Mango from the Branding button on your administration sidebar.
Removing Custom Branding
To revert your map to the default style, first navigate to your Branding panel from your administration sidebar.
Delete a logo by clicking the Delete button below your logo.
Revert to the default theme by selecting Default from the style dropdown.
Mango's branding settings are global. Any setting configured in the Branding panel will apply across all of your maps, however it is possible to disable the custom theme or translations on individual maps.
To disable branding on a map, open the map from your portal and open the SETTINGS panel.
Under Custom Branding, switch the toggles for custom theme or translation to off.