The Social Sharing panel is an administrator only feature.
End users of your map can share features or places using the new Share & Bookmark tools. See this chapter for details.
Short URL and Social sharing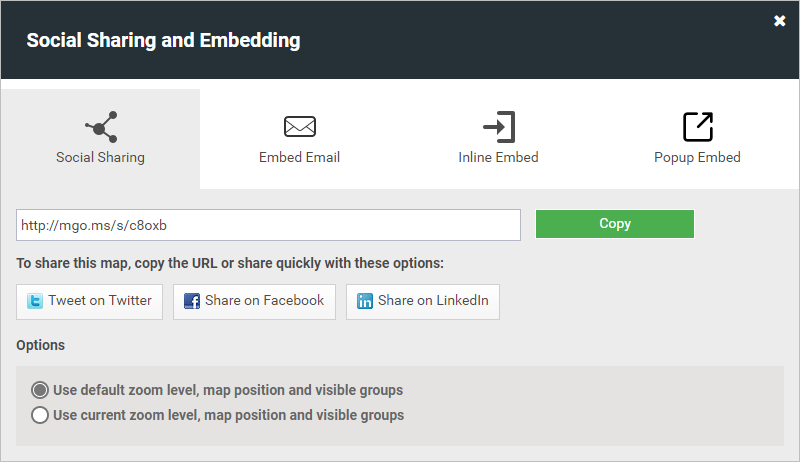 Map URLs are often long and complex. If you want to share a short URL, open the Sharing panel from your admin sidebar, and click the copy button next to your map's short URL. You can then paste the short URL anywhere – emails, on social media, or in your favourite chat application.
The social sharing panel makes it easy for you to share, tweet, link, and embed your map anywhere.
To share directly on social media, click the Twitter, Facebook or LinkedIn buttons on the sharing panel to trigger the sharing window for your chosen platform.
Email Embed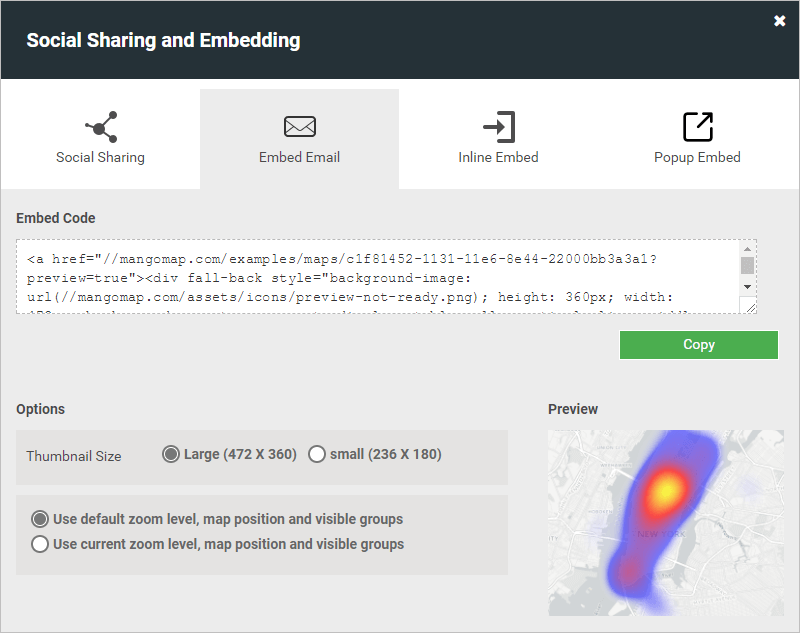 If your email client supports HTML embed codes, you can use the Email Embed code to create a linked image link in an email.
Set the thumbnail size and whether you want the default thumbnail or a custom location and zoom level for the linked image. Copy the embed code and paste into your email client and the linked preview image should appear.
My thumbnail isn't showing when I post my map to social media
Mango generates a thumbnail when the map is turned online for the first time. If your map is offline, it won't have a map thumbnail, and will show a default "map offline" thumbnail, or no thumbnail on social media.
When the map is offline, no one else can access it, so before sharing your map, ensure you switch the Online toggle in the map's admin sidebar.
If you have made significant changes to the map, or want to re-position your map thumbnail, first set the map to the position and zoom level you want featured in the thumbnail, then open the Map Settings panel and select "Use the position & zoom level of the currently visible map", and click Update Thumbnail.
For details on making your map private or password protected, please refer to the chapter on map and data privacy.