Do I need to sign an agreement?
No, there is agreement to sign to become a Partner.
Once you have registered your interest, we will send you a document offering the Partner discounting scheme and other commitments that we will make to you as our Partner.
Can I access the client accounts that I have created?
Yes, you can access and manage client accounts as if you were the account owner at any time.
Do you offer exclusivity to Partners for a particular market or geography?
No, we don't offer exclusivity to Partners for any market or geography.
This is partly due to difficulties in enforcing such a system as Mango is primarily a self-service product, and also we believe that your knowledge of your own business area is the real key to your success.
Becoming a Mango Partner offers you the opportunity to enhance your service offering to your clients and deliver them interactive maps that meet their business needs.
Do you refer sales leads to Partners?
Yes, we may in some circumstances refer a potential customer to a Partner, particularly if they need assistance in sourcing and preparing data and in the ongoing maintenance of the maps and data.
How is the volume discount calculated?
To calculate Monthly Volume (MV), divide Plan price by the number of months in its billing cycle, then multiply by the number of active subscriptions for that Plan.
For example, the MV for a Partner with two clients on Enterprise (2 year) subscriptions is calculated as follows:
MV = ( $3,343 / 24 ) × 2 = $278.58
As you create more clients, your Monthly Volume will increase accordingly. When Monthly Volume reaches a new tier, all subscriptions will be discounted at the new Tier rate.
What accounts can I create for my clients?
You can create a client account at any plan level and billing cycle: Professional, Business, Enterprise, and Agency; from monthly through to five year subscriptions.
As a Partner, how can I get support from Mango?
We understand the importance of your relationship with your customers, so support requests from partners will be addressed at the highest priority level.
How will my clients get support?
Since you know your clients best and may have been involved in setting up their maps and data, their first port of call would ideally be you, the Partner.
If you have allowed the client to contact Mango support, any support request that we receive directly will answered, but if it is a map or data issue that is outside of our control, we will refer the request back to you.
Learn more about client support
Can I create a test account to try Mango?
Yes. You can create a Demonstration account. Demonstration accounts are fully functional client accounts, with 30 days deferred billing.
Learn more about demonstration accounts
How are client accounts billed?
Billing is managed in the Partner Dashboard when creating or editing client accounts. All client accounts are charged to you, the Partner. Client account holders do not have access any billing information.
When will I be charged?
When you create your first client account, we charge the amount due for the subscription immediately.
The day you first create a client account also becomes your "billing day".
When you create a Partner account, you will need to provide your credit card details. Your card will not be charged until you create an client account.
Subsequent Client accounts created on days other than your billing day will be charged a pro-rata amount when the account is created, and then charged in full on the "billing day" of each month.
This ensures that Partners receive only one bill from Mango -- not multiple charges for individual clients across the month.
For annual subscriptions, if your Billing Day is the 2nd of the month and an account is created on March 15 2019, the subscription will renew on March 2 2020, and will be charged the appropriate pro-rata amount.
A full summary of charges due and ongoing subscription costs is available at the bottom of the page when creating new clients.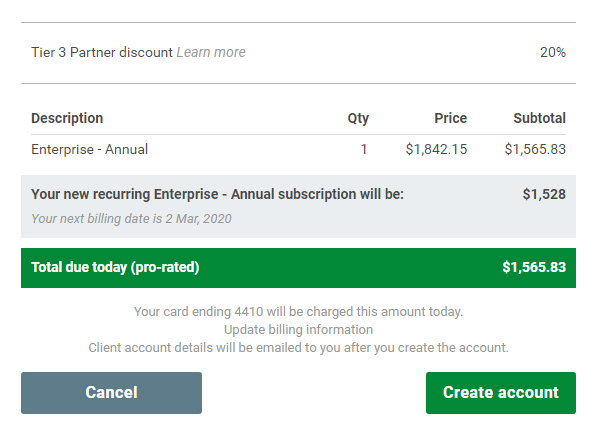 Will I get an invoice?
Yes, immediately after creating a client account you receive an invoice detailing any charges associated with the client, including applicable pro-rata charges. Invoices are available to view in your Billing & Invoices page in your Partner Dashboard.
Each month you will receive invoices for each client on monthly subscription.
Every year on your billing day, or every nth year for annual/multi-year subscriptions, you will receive an invoice for Client accounts with annual and multi-year subscriptions.
Reminders are sent 7 days prior to subscription renewal.
Can I upgrade or downgrade my client's subscription?
Yes, you can do this at any time from the Partner Dashboard. Only the Partner can make changes that affect billing.
Can I manage the client's add-on user quota?
Yes, you can do this at any time from the Partner Dashboard. Only the Partner can manage the client's premium add on-user quota. Where a client is on the Enterprise or Agency plan, the client can invite and manage Private Viewers; where the client also has a premium user quota available, the client can create and manage Administrators and Data Editors.