If your data is updated outside of Mango, you can reupload new versions of the dataset, and all maps using the dataset will be automatically updated.
To re-upload a dataset:
Open your Data Portal, and then open the dataset you wish to update.
In the dataset view, click the RE-UPLOAD button in the administration sidebar.
Select the file type you wish to reupload
Browse your system to the new version and add all files required for the dataset type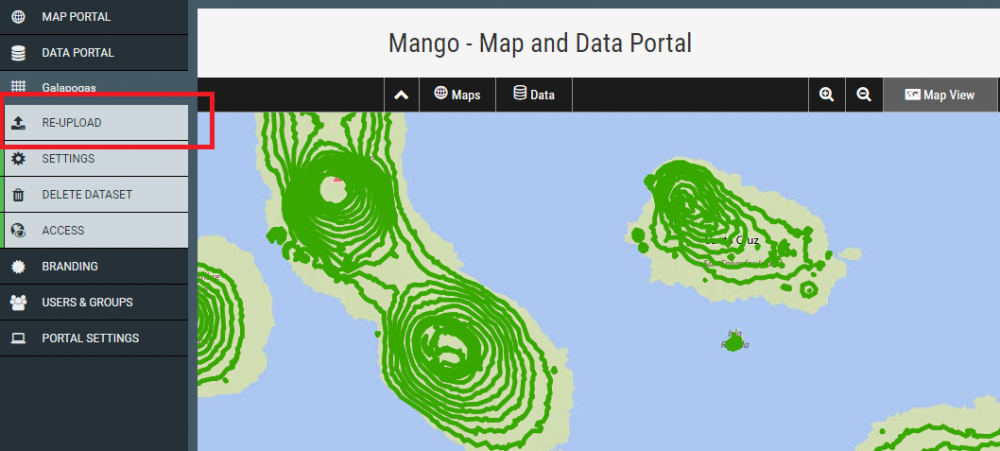 Using the same file format as the first upload is not required. Data can be reuploaded in any supported data format.
Supported file formats
Re-upload is currently only supported for the following formats:
Shapefile
CSV
MapInfo Tab
If you would like other formats supported for reuploads, please send an email to support@mangomap.com to register your interest.
Requirements for a successful reupload
Field consistency
The new version you reupload to Mango can contain additional fields that were not in the version in Mango, however, all existing fields that exist in Mango must be maintained.
Mango will not process reuploads where the newer version is missing columns or where column names have been changed.
No "Locked files"
Some desktop GIS applications do not completely write the attribute table until the file is closed, or the application is closed (looking at you, ArcMap). Reuploads attempted with the dataset still open in ArcMap often do not include the full edited attribute table, so your data may not update in Mango correctly. Customer feedback indicates this can result in no attribute changes, or partial changes. New features may also not be present in the reuploaded version in Mango.
If you reupload a shapefile that was edited in ArcMap, ensure you first close the file, or close ArcMap BEFORE attempting the reupload to Mango.
Automating reuploads
Use the Data Sync tool to automate reuploads via Dropbox. This can be achieved by writing new files to a local Dropbox folder on your PC, or by automating updates via tools such as Zapier.