If your data is maintained outside of Mango, you can reupload new versions of the dataset, and all maps using the dataset will be automatically updated.
To re-upload a dataset:
Open your Data Portal, and then open the dataset you wish to update.
In the dataset view, click the RE-UPLOAD button in the administration sidebar.
Select the file type you wish to reupload
Browse your system to the new version and add all files required for the dataset type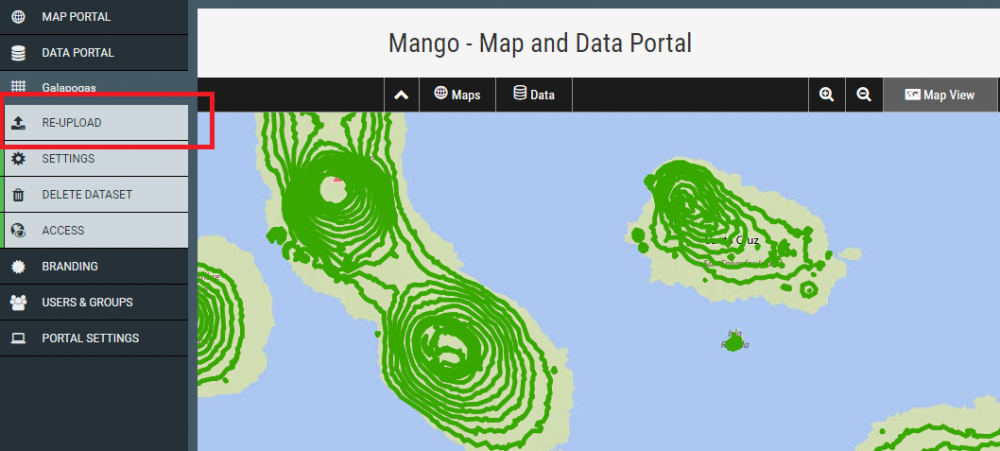 Using the same file format as the first upload is not required. Data can be reuploaded in any supported data format.
Supported file formats
Re-upload is currently only supported for the following formats:
Shapefile
CSV
MapInfo Tab
If you require other formats, please search our suggestions dashboard for existing feature requests to vote on. If no requests exist for the feature you would like to be able to reupload, please add it as a new request.
Caveats, or, why is my reupload failing?
The new version you reupload to Mango can contain additional columns that were not in the existing version in Mango, however, the following issues will cause a reupload to fail:
The new version of the dataset contains columns/fields that have been renamed.
The new version is missing columns/fields that already exist in Mango.
Mango will not process reuploads where the newer version is missing columns or where column names have been changed.
Automating reuploads
Use the Data Sync tool to automate reuploads via Dropbox.