Mango is designed to work across all devices - desktop, mobile and tablet.
Mango has a web client application that allows for intuitive and fast map interaction.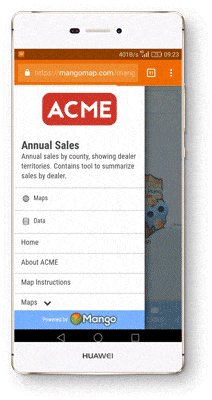 At present the following tools and features are not available on mobile:
Sketch
Bookmark
Mouseover highlight
Print
Information sidebar
Clustered pushpins
We are working on migrating all tools to mobile, and will be available in upcoming releases.
Supported mobile browsers
Mango is supported on the following Android and iOS browsers
Chrome
Edge
Safari
Firefox
Android WebView
Learn more about browser support.